A new wordpress theme has just been released called Socrates – if you are an affiliate marketer, regularly creating niche specific blogs, then you need to check it out NOW !
Created by Joel Comm & Dan Nickerson, it gives you the ability to create a good looking, fully customised, highly effective and fully monitized blog in minutes.
I have tested it out on a new blog I was due to create & it does just what they promise it will do in their video on their 'sales page.'
Here is a list of just a few of the thing it can do:
* Custom Header Design System
* 160 + Niche Headers
* 1000's of Design Combinations
* Custom Navigation Bars (you can have 3 of them !!!)
* Use Optional Built In Adsense and Clickbank Ad Bar
* Social Media Slider
* Custom Styling and Color Options
* Choose from Several Site & Sidebar Layouts Options
Once you purchase the theme plugin, you also get access to a whole host of tutorials including:
* WordPress Installation Video
* Socrates Installation Video
* Adsense for WordPress
* The Everything WordPress Webinar
* WordPress Plugins and SEO
* Cpanel and WordPress Setup
* How To Locate Profitable Niches
* How To Profit From Trends
* How To Find A Great Domain Name
* The Best Webhost For Your Domain
* How To Get Google To Pay You Money
* How To Get Paid To Promote Other People's Stuff
Unlike some other themes I have checked out, this one is remarkably easy.
One thing I will mention is to take the time to read the first page when you first click on Socrates in your wordpress menu to start customising it. It states that you must go through each section set up & apply your basic design choices BEFORE the site will display everything (e.g. header graphic).
Guess what, I didn't bother – I was too eager to get stuck in with my customization (no, it's not just men who think there is no need to read instructions). And I thought I had problem with the plugin when my header graphic didn't display.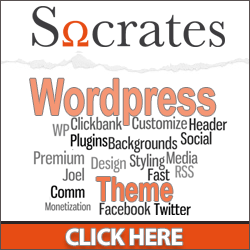 As themes go, I definitely rate this very highly.
Best of all, it comes with a 60 day, no quibble guarantee – if you don't like it, you can get a full refund (this is backed by clickbank who handle the sales process for purchasing).
Click The Image To Learn More