Is It Time To Grow Your Business?
Request your FREE 30 minute telephone consultation to discuss your current business sales and marketing challenges. Let's identify a few short term goals and deadlines to get you started.
The constant change in the business landscape and consumer buying patterns means you, as a business owner need to test and re-test different sales and marketing strategies and tactics to capture a customer and retain them. In today's world you cannot apply a one size fits all approach to your marketing. You need to utilise multiple methods, with varying media to optimise this process.
Remember, nothing happens without ACTION!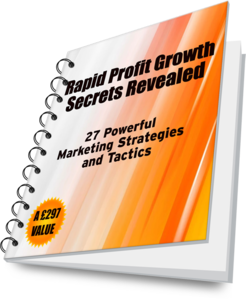 Rapid Profit Growth Secrets Revealed
27 Powerful Marketing Strategies and Tactics
Guaranteed to help you out think, out sell and out manouvre your competition!
Thank you Angie for a very insightful Keyword Research & SEO workshop. Really enjoyed a practical session with very useful tips and advice on ranking a business on Google & attracting traffic to a website.
Angie has created a stunning website for me of which it has already brought business in. I can't praise this company enough. I'm a small business and they just knew exactly what I needed to update my business.
Paul, You were outstanding and I am delighted at the results achieved since our last meeting. Working with you gave us the focus and inspiration required to build our business

.