We were approached in August 2009 by a client (Barrie) who needed help to build an internet presence for his drumming 'hobby' which he wanted to try & turn into an income stream by giving drum lessons.
It was a start from scratch project, which included:
Choosing a domain name
Creating header graphics
Setting up the site
Showing the client how to create posts & keep adding content
Step 1) Choosing the right domain name
An overview of how to tackle this very important step can be found in a previous article – choosing a domain. Following the guidelines detailed in the choosing a domain name article, we recommended the following domain (also known as a URL) to Barrie: www.drumlessonsmanchester.co.uk
IMPORTANT – Do Not make Assumptions !
Our client initially queried this recommendation as he said he would search for 'Drum Teacher' – this is a prime example of why you need to do research, what you do, may not be what the majority of your potential customers do.
Our research showed that even for this niche market, there were approx 140 searches a month for the phrase 'drum lessons manchester'. For our client, who is a pretty good face to face / telephone sales person, if just 10% of these visited his site & turned into valid enquiries, he would be happy.
Step 2) Setting Up The Site
Google loves blogs !
BUT you have to keep adding regular content to stand a chance of keeping your ranking high on search engines.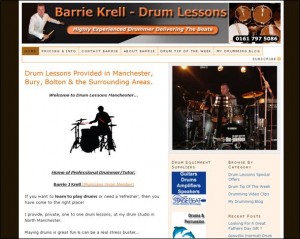 Once we bought the domain, created his header graphic using photoshop & set up the blog structure using Thesis Theme, we were delighted to find that our domain name research efforts had paid off & his blog started appearing on page one of google for his primary keyword within a few days. Unfortunately, the client did nothing further with it for a few weeks & surprise surprise – it vanished off the radar!  It was time to kick start him into action.
A wordpress based blog, with a good theme template, can actually be very easy to maintain. You have the option to create some 'static' pages, so that part of your site looks like a typical website as well has have a blog category to publish your day to day articles or posts.
Step 3) Regular Content
In Barrie's case, aside from the bio that was needed, lesson info & contact details, we needed to think about a way in which he could keep posting regular content.
The solution we came up with was to create a 'Drum Tip of the week' section on his blog.
It's worth mentioning here that Barrie was the first to admit that he was not 'good with computers & the internet' – yes he could do his own information searches & internet shopping but that was about it. So, in an attempt to ressurect his page 1 google rankings, he spent a day with Profit Masters, learning how to create and update blog posts.
Aside from a few pointers here & there, Barrie now maintains his blog himself. He is posting regular content and as a result he is ranking on page 1 of google and high in other search engines for a number of great keywords.
Visitor & Traffic Stats – as at 20th April 2010
Visitor Levels
February 2010: 200 (58% new)
March 2010: 170 (76% new)
April 2010 (up to 20th): 101 (78% new)
Visitor Traffic Sources
20% – Direct
58% – Google Organic Searches & 60% of these searches came from the search phrases: dum lessons manchester, drum lessons in manchester, drumming lessons manchester
6% – 'Free' Advertising Forums (relevant to the music industry, e.g. party sounds, joinmyband etc)
2% – Social Networking Sites e.g. Facebook, LinkedIn, Twitter
And the proof that the site & domain name are working…
1) Google Search Results:
Go ahead & try the a google search yourself. Just enter his keyword search phrase of  'drum lessons manchester' and see if the site appears on the top of page one (below any sponsored links).The screen capture below is from 20th April 2010.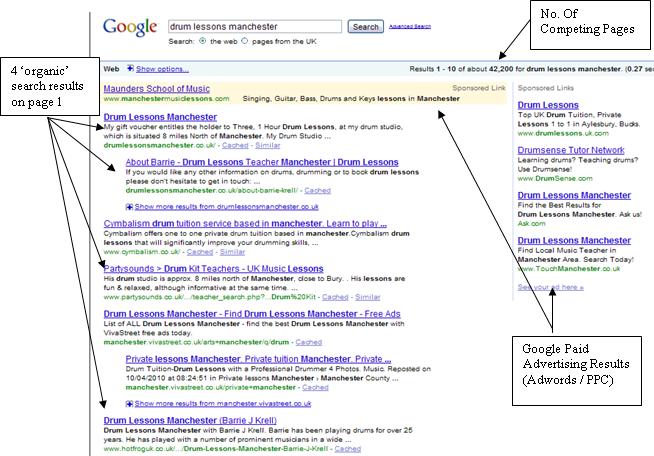 2) Enquiry Volumes
Barrie is regularly receiving new enquiries & converting these to new drum lesson students.
A successful job & a happy client!
If you would like to use Profit Masters Ltd's marketing consultancy & blog design / build services, please get in touch by completing our Enquiry Form.