Do you have a Facebook Business Page? If yes, when was the last time you looked at, and analysed the data in your 'Facebook Insights tab' in the admin area?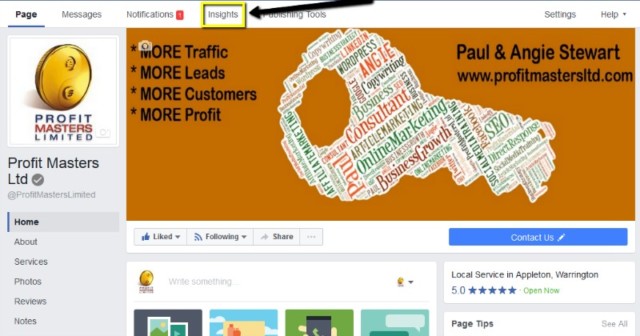 If you want to grow your Facebook Business Page likes, and improve engagement then you need to be looking at this tab on a regular basis – it contains some very valuable data.
For those of you who may not know where to look and what to look for, in the video below, Angie takes you through 2 basic insights areas (Note: You need to access the Facebook Insights tab via a main pc / laptop, as the data available to you on a mobile device is limited):
Posts
The posts insights area provides you with graphical data showing:
when the majority of your existing page fans are online so you can schedule delivery of your posts accordingly
the types of posts your fans like / engage with.

People
The people insights area provides demographic data such as:
gender
age
location
language

This information will help you design posts / use imagery to suit their likes & dislikes etc.
Save
Save