YouTube is a fabulous marketing tool, especially now it is owned by Google – used correctly it can generate plenty of traffic for your business.
There is one simple, quick You Tube Marketing Tip that can instantly increase your brand awareness and at the same time send traffic to your blog or website – correctly complete the YouTube Description Field.
When you upload a new video to YouTube, you are given the opportunity to write a description, so that viewers know what the video is all about.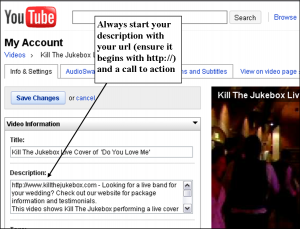 So here's the tip – make sure that you start your description with your URL putting http:// at the beginning. Doing this will make the URL a clickable link back to your site.
Next, you follow the link with a call to action – something that will hopefully entice the viewer to click on the link to take a look at your site.
Take care to still some good information about your video, but this comes afterwards. If you put the URL at the bottom of the description, the viewer would have to click 'more info' to be able to see it.
So go review any videos you have on YouTube and amend your decscription.
Not got a video yet? Then go make one !
All you need to start with is a mobile phone or a few images and a great online tool called Animoto