Personally, I have found the introduction of facebook business page timelines rather exciting, especially the different ways in which you can now use images.
I have a business page for my craft making site (Craft Making Ideas) & have used this to help me explain the different image sizes and guidlines: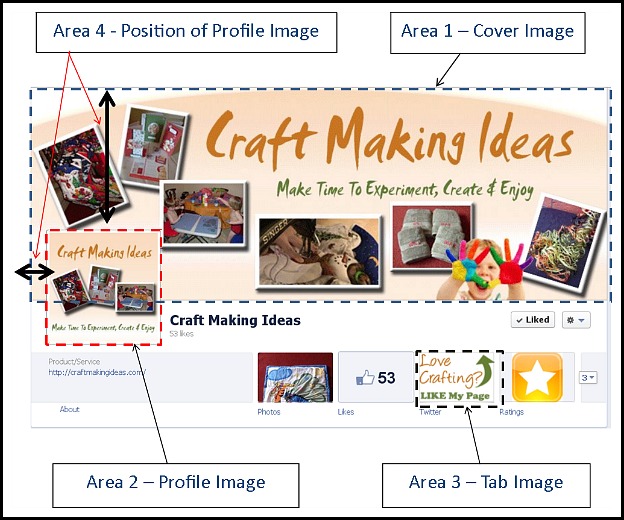 Area 1 – Facebook Cover Image
For your cover image, you can either choose an existing photo, or design your own.
If you choose to create your own bespoke cover image then the sizes are 815px wide by 315px high. Also note the position of Profile Image (as detailed in Area 4 below) so that your image doesn't look cluttered
Remember to check for and follow facebook current guidelines when adding content to your image or you may risk getting your page banned.
Area 2 – Facebook Profile Image
The size of the profile image has changed recently, increasing to a display size of 160px by 160px.  Please note however, that you need to design and upload an image based on 180px by 180px and facebook will automatically resize it.
Area 3 – Facebook Tab Image
You have the ability to upload bespoke tab images based which can be great for a implementing number of facebook marketing strategies. Tab Size: 111px by 74px
Area 4 – Position Of Profile Image
The profile image will cover an area of your cover image.  It is positioned 23px from the left and 210px from the top.
Still finding it all a bit baffling? Let us create your facebook page, including cover image for you. Read more about our Custom Set Up