Trem Tudwall is a family owned, dorma bungalow in the popular Welsh village of Abersoch.
Having spent some time on improving the property in terms of the overall appearance and decor, its owners decided that they wanted to start making it available for holiday lettings.
They asked Profit Masters to work with them from outset, which included:
Choosing a domain name
Setting up the website
Creating website graphics
Establishing a simple (free) booking process
Populating website with some local information
Step 1) Choosing & Securing A Domain Name
Whilst the property is called Trem Tudwall, this is not typically a term (known as a 'keyword phrase') that people would enter into a search engine when looking for holiday lets in Wales.  So what is?
We set about reviewing various 'keyword phrases'  and ultimately decided that 'abersoch self catering' would work the best in terms of volume of searches vs competing pages.
The domain name abersochselfcatering.co.uk was secured.
Step 2) Setting Up Website Including Graphics
We had some great images of the property as well as the local area and went about creating a website with a fun 'holiday' feel.  The focus was on keeping it simple but at the same time making sure we included:
Good internal and external images of the property
A simple (free) availability / booking system
Location in relation to the main village and local beaches
Information about the local area
The site was set up using wordpress so that the client could, if they wished, be able to access and update it themselves in the future.
The End Result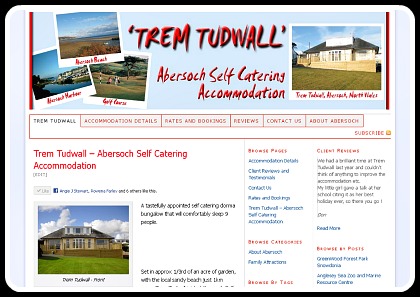 By taking the time to add some regular content (which is a must to ensure good search engine rankings), Abersoch Self Catering is now ranking well in search engines for specific keywords, receiving regular visits, booking enquiries and bookings.
On 27th June 2012, the site appears immediately below the google map results on Page 1 for the term 'Abersoch Self Catering'. It also appears at position 7 on page 1 for the phrases 'abersoch self catering 9 people' and 'accommodation in abersoch for 9 people'.  How long it stays there, will depend on the owners following our advice in term of ensuring additional content is added from time to time.
And for those that know of the property & search for it by name, as you would expect, it ranks at the top of google & has the full site breakdown listed beneath it: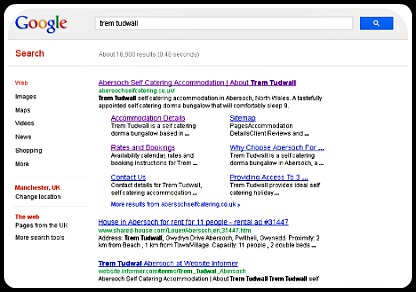 If you would like to discuss working with Paul and Angie on a similar project, please get in touch by email or using our enquiry form